Tidetech has supported many races and regattas around the world over the past few years… but how does the data actually get used and how does it influence tactical decisions?
There are a variety of ways tacticians can access Tidetech's tidal and ocean current data – in GRIB format through tactical navigation software, via the online viewer, on PC, iPad, laptop or plotter.
With forward-looking data, tactical and strategic decisions can be made and planned well in advance.
The 2009 Sydney to Hobart overall winner, Two True (Beneteau First 40), used Tidetech's data and gained a crucial advantage that year.
"Bryan Northcote helped us get set-up with the Tidetech service and Expedition software," said Les de Wit, owner of Two True.
"He also developed our routing for the 2009 race.
"The influence of the East Australian Current on the Hobart race varies from year to year, however in 2009 it was a definite factor and based on Tidetech's data it was established we would benefit from travelling extra miles east to find the strong southerly current.
"We stuck to this plan and it worked out well. Interestingly, we lost our internet connection for much of the race."
Two True employs Tidetech's data onboard through a laptop with Expedition software and C-Map charts. As well as Tidetech, the team also subscribes to Predict Wind (good friends of ours) and they say the combination of these data services is critical in their race preparation and routing. They also run a tablet system on deck, connected to the laptop, along with iPad and iPhone, and are able to access the internet through this selection of devices as everything is WiFi enabled.
Phile Eadie, navigator on Victoire (Beneteau First 45) has used Tidetech since the early days and said it was one more element that informs the tactical decisions.
"It's hard to be specific [about how exactly the data has influenced a race] as there are so many factors involved in winning a race," Mr Eadie said.
"But I now always use Tidetech – and have done since arranging to meet Penny and learn about the data when Tidetech was starting up.
"We use Tidetech through Expedition software on a laptop and one of the critical elements for me is also the sea surface temperature data combined with the current plot."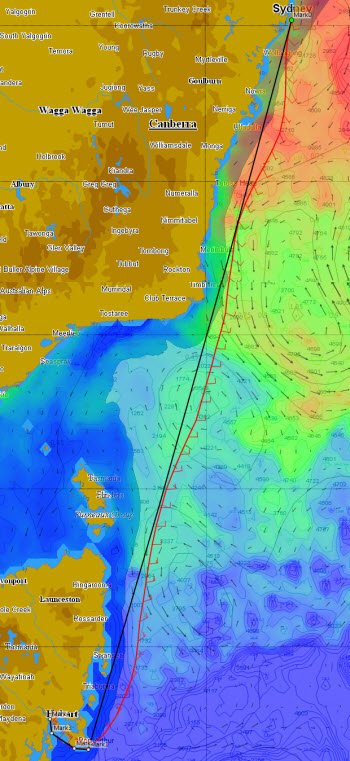 In a recent article in Australian Sailing + Yachting, Will Oxley, navigator aboard Volvo Ocean Race yacht Camper, gave his view of Tidetech's data.
"It's great we have access to the Tidetech data for this edition of the Volvo Ocean race," Oxley said.
"I have been using the Tidetech data all over the world now for several years and it has significantly added to my arsenal of tools as a navigator.
"Tidetech is now a standard tool for most of the top navigators in Australia on the east coast circuit and the Sydney-Hobart race."
Tidetech's Penny Haire said the data works best in tactical routing software when tacticians trust the output.
"We've designed our data to integrate with tactical software in conjunction with meteorological data so it can produce an optimised route," Penny said.
"Currents and tidal streams may vary in speed from as little as fractions of a knot to several knots but it all adds to overall performance.
"This means it has to be taken into consideration and the boats that use the data well, get an advantage.
"But we also recognise that not every yacht and crew has or needs professional-level navigation tools so we have developed the online viewer and PDF generator that delivers a very effective level of data about both tidal streams and ocean currents."
Les de Wit believes technology is playing an increasingly important part in sailing.
"Being able understand what the current is doing, use it for routing and overlay the data onto electronic charts is definitely an important tool for navigation," Mr de Wit said.
"A key benefit for us of the Tidetech service is how well in integrates with systems such as Expedition. I suspect nowadays such data is standard kit for any serious team."